---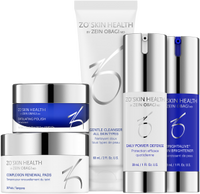 ZO Skin Brightening Program Kit
This skin brightening program features a non-retinol skin brightener that works to brighten skin tone and lessen the appearance of discolouration. Mild enough for everyday use.
Key Benefits of the ZO Skin Brightening Program kit
Ideal for improving the appearance of hyperpigmentation either when hydroquinone treatment is completed or contraindicated, or as maintenance
Ideal for non-specific visible discolouration (freckles, liver spots or uneven tone)
For use when skin brightening is desired
This program also reduces the appearance of fine lines and wrinkles
Gentle Cleanser
An effective glycerin and botanical blend that gently cleanses away oil and impurities, leaving skin refreshed and hydrated.
Exfoliating Polish
Magnesium crystals that exfoliate dead skin cells to create a clear, smooth and even-toned complexion.
Complexion Renewal Pads
Moistened pads help minimize surface oil and exfoliate pore-clogging dead skin cells and dirt.
Daily Power Defense
A powerful antioxidant serum designed to improve the appearance of lines and wrinkles, and to address future damage.
A non-retinol skin brightener formulated to even skin tone, reduce dark spots and restore hydration, while calming and soothing irritated skin.