---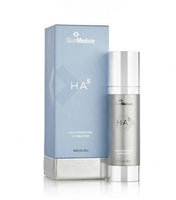 Sale
Provides immediate smoothing in the appearance of fine lines and wrinkles, and supports the skin's natural ability to replenish its own hyaluronic acid for overall skin health.
Appropriate for all skin types.
56.7 g / 2.0 oz.
SkinMedica HA5® Rejuvenating Hydrator
Do you ever feel that no matter how much moisturizer you use, your face still feels dry? You try thicker, oil-based creams, maybe you even finally opt for pure shea butter, but it still doesn't do the job. For many women, particularly those who winding their way through menopause and losing estrogen, it is very difficult for the skin to hold onto the moisture it needs. This is where HA5 Rejuvenating Hydrator comes in.
Hyaluronic acid is a natural, "water-loving" substance found in the skin—acting as your body's natural hydrator. HA holds in moisture, keeping skin healthy, resilient, and supple. With age, the amount of HA in the skin decreases, diminishing your skin's ability to remain hydrated. Between the ages of 40-50, your skin has lost 50% of the HA it had at age 20.
HA5 Rejuvenating Hydrator
This clinically tested Rejuvenating Hydrator blends five forms of Hyaluronic Acid (HA), that works synergistically to enhance the look and feel of your skin with VITISENSCE™, a SkinMedica® exclusive technology that harnesses potent antioxidants to support epidermal health.
The weightless silky finish immediately diminishes the appearance of fine lines and wrinkles and softens the skin. Sustained release technology ensures continued hydration and freshness throughout the day.
With continued use, HA5 supports the skin's ability to retain moisture resulting in radiant, rejuvenated tone and texture.
How HA5 Rejuvenating Hydrator works:
HA5 supports the skin's ability to replenish its own HA for overall skin health. HA5 has a mix of five HA forms that smooth the skin, thereby decreasing the appearance of fine lines and wrinkles. The 5 HA's work synergistically to provide immediate smoothing and continuous hydration for up to eight hours.
Skin looks and feels smoother in just 15 minutes after application
Clinically proven to improve skin texture, fine lines and wrinkles in eight weeks
Study-related questionnaires revealed that:
96% of patients agreed that immediately after applying HA5 it made their skin feel smooth and soft*
91% of patients agreed that after 8 weeks of twice-daily use, HA5 made their skin feel "more refreshed and moisturized"*
100% of patients agreed that HA5 works with their daily regimen*