---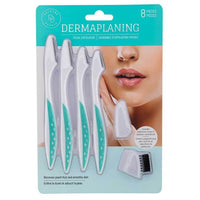 The Dermaplaning Kit provides simple, effective facial exfoliation tools that will become an indispensable part of your beauty routine!
Dermaplaning is a facial exfoliation method to trigger cell regeneration. This at-home tool gently rids the face of excess fine hairs which can trap dirt and oil, giving skin a dull look. It's an easy and cost-effective way to remove dead cell build-up and fine facial hair to reveal a bright, youthful-looking complexion. As a result, it improves the skin's surface and allows better absorption of serums and creams.
Kit Includes:
2 x large blades for larger surface areas such as cheeks, neck and chin.
2 x small blades for harder to reach areas such as upper lip and along brow line.
2 x protective covers for safe and convenient storage.
2 x comb/brush attachments for grooming eyebrows and brushing away stray hairs.
How to use
Disinfect blade by soaking in rubbing alcohol for about 3-5 minutes and then leave to air dry.
Test on the back of your hand before using to gauge pressure.
Start with a clean, dry face and shave in the direction of hair growth.
Brush against skin to remove hair and dead skin cells. Do not brush over the same areas more than once.
Apply gentle pressure but do not force.
After use, apply a layer of serum and/or cream for best results.
Clean blade again and leave to air dry.
Once dry, place protective cover over top of blade and safely store away.
Dermaplaning is recommended only once every 6+ weeks.
Warning
Those with sensitive skin should begin their routine by testing a small surface area first and waiting up to 48 hours to ensure that their skin tolerates this practice. The next step would be to test a slightly larger surface area, then check again. Contact a medical professional if you have any medical conditions or concerns.